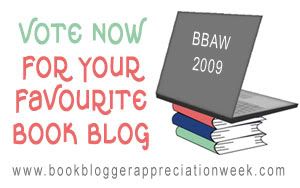 I started my book blog about seven weeks ago, so I am still very new. I thought it would be a great idea to get involved with
BBAW
(Book Blogger Appreciation Week). Posted on the BBAW blog by
My Friend Amy
are three questions for us newbies. So here are the questions and my answers:
1)  What has been one of the highlights of blogging for you?
Wow, there have been so many highlights since starting this blog, I can't really chose just one. I've 'met' some great people who are really friendly and helpful. They have left lots of lovely comments, which as a new blogger, is really important. I've been in touch with some really generous publicists who have sent me great books to review and authors who have been kind enough to be interviewed and I did a guest post for Natasha @ Maw Books, which was fantastic. 
2)  What blogger has helped you out with your blog by answering questions, linking to you, or inspiring you?
When I started out, the first blog I came across was
J. Kaye's Book Blog
. I did send her a couple of emails which she was kind enough to answer. It helped a lot, but after that I managed to get a lot of inspiration just by visiting other book blogs: Amy @
Park Avenue Princess
for her enthusiasm,
The Book Muncher
for their clever design, it's so cute and Sassy @
Alternative Read
, who followed me every where (stalker) and left lots of comments when I had very few people coming by my blog. There have been so many but to list them all would take forever! 
3)  What one question do you have about BBAW that someone who participated last year could answer?
How do you get more traffic to your blog? To have lots of people coming back and enjoying what you post is a real thrill. I love it when I've put a new post up and I get lots of comments, I think, well that was a success and it makes it all worth while. Without people coming to your blog and enjoying what you write makes it all a bit pointless. So, thanks guys